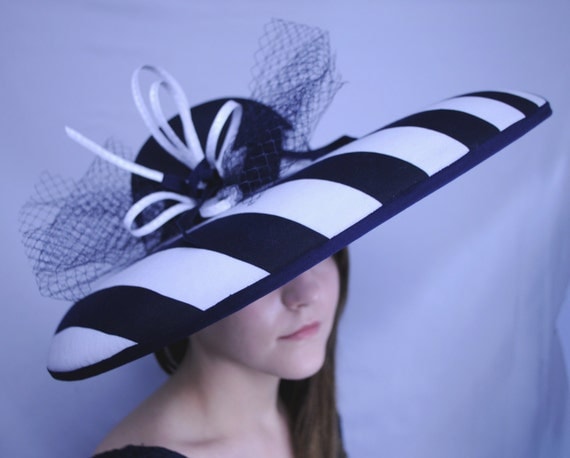 Navy and white from
etsy
I love this hat!
However.
First of all, I'm not sure it's "me." I'm never the most fashionable girl in the room (unless it's me and a bunch of guys but if one of those guys was gay, he'd probably still have more style than I do).
Second, I have no idea what I'd wear with it! It's navy, not black. If it was black, it'd be much easier to work with- black dress and bright jewelry. Done.
I think it would go best with a simple dress with minimal jewelry but what color? A navy dress with a navy and white hat would be blah plus it would probably be next to impossible to match the navies. White dresses are out of the question. They're just not practical for me at the Derby. Too much dust, leaning against railings, possible rain which leads to mud, beer spills, etc.
I think it'd be cute with a bright pink dress or kelly green. Red? Or would that be too nautical? Too 4th of July? Would it make you want a hot dog and a Budweiser real bad?