The holidays are over. It's all downhill from here, folks! Every weekend for the next 16 weeks, we'll have a race on the Road to the Kentucky Derby that will determine who is in the gate on May 3rd. Not to mention, spring dresses will be hitting stores soon, followed by hats. Glorious hats!
But I don't want to get too far ahead of myself. Today brought us the Jerome Stakes at Aquaduct Racetrack in Queens, NY. I handicapped it (first time I've gotten out my special handicapping pen since Breeder's Cup!) and I picked Noble Moon, Scotland, Lawmaker and Classic Giacnroll, in no particular order, with Mental Iceberg as my long shot. Noble Moon had a great run and came in first, followed by Classic Giacnroll, Scotland and Matuszak. Not too shabby for a novice who hasn't done this since November! Mental Iceberg came in 6th but hey, that's why I had him as my long shot.
Now that the holidays are over and Derby prep races are in full swing, I'm starting to get excited! Hat shopping will probably start in early March. That's only 8 weeks away!!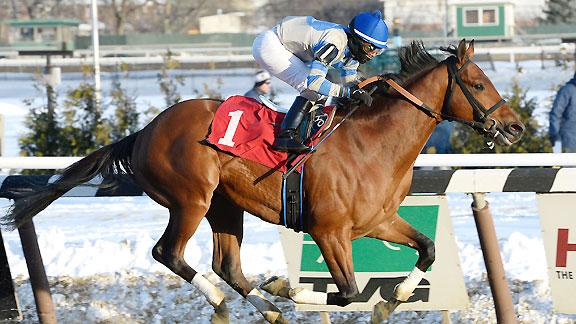 118 days till the Kentucky Derby! Unless something really goes wrong with the universe, the weather should be completely different.